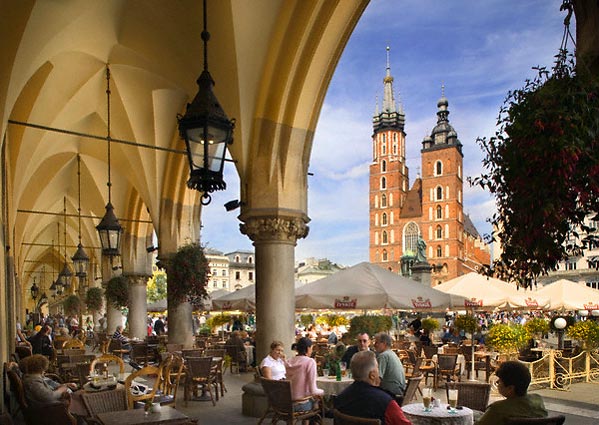 SBA STUDY TOUR: Poland & Czech Republic
Experience the excitement of earning 6 credits on a 4 week tour of Central Europe!  In addition to classwork, this tour to Poland and Czech Republic will include business field trips in which you will discover the similarities and differences of organizations in other countries.  The tour will also include sightseeing excursions to various locations, including ancient castles, salt mines, and a trip to the Auschwitz concentration camp.  Click on the links below to learn more.
TOUR DATES
May 6-31, 2013
TOUR CLASSES

ECON225 Principles of Macroeconomics

Business majors – Core class
Other majors – Gen Ed: Social Science option

BSAD297 Cross-cultural Business Communications

Management majors – Major elective
Other majors – General elective
Please fill out, print, and sign these forms, then submit them to Jen Birney in the Dean's Office (CSH201).
Payment of the $350 deposit will secure your spot on the tour, initially.  Six credit students are given priority over 3 credit students.  Those who pay the deposit are given priority over those who have not.  (If you are only interested in taking 3 credits, please see Jen Birney to pick up different forms.)
DUE DATES
All forms (except the Financial Clearance Form) and deposit are due by February 15, 2013 or up until the date that the tour spots are filled.
The Financial Clearance Form is due by April 5, 2013.
TOUR COST
Cost for 6 credit Students
Tuition
$5,928
Tour Fee
$650
General Fee
$115
TOTAL
$6,693
Cost for 3 credit Students
Tuition
$2,964
Tour Fee
$1,950
General Fee
$0*
TOTAL
$4,914
*If you are taking 6 or more total credits during the summer semester, then you will be charged the General School fee of $115.
Cost includes airfare, dormitory/hotel, meals, arranged excursions, corporate visits, transportation, and textbooks.
CORPORATE VISITS
(tentative)
Hyundai Motor Manufacturing Czech http://www.hyundai-motor.cz/english.php
ArcelorMittal, Ostrava http://www.arcelormittal.com/ostrava/index_en.html
OKD http://www.okd.cz/en
Skoda Auto http://www.skoda-auto.cz/
CSOB http://www.csob.cz/en/Stranky/default.aspx
Czech National Bank CNB http://www.cnb.cz/en/index.html
Crystal Glassworks http://www.bohemian-glassworks.com/
COUNTRY INFORMATION
Poland
U.S. Department of State (http://travel.state.gov/travel/cis_pa_tw/cis/cis_1000.html)
Wikipdedia (http://en.wikipedia.org/wiki/Poland)
Czech Republic
U.S. Department of State (http://travel.state.gov/travel/cis_pa_tw/cis/cis_1099.html)
Wikipedia (http://en.wikipedia.org/wiki/Czech_Republic)